Back to list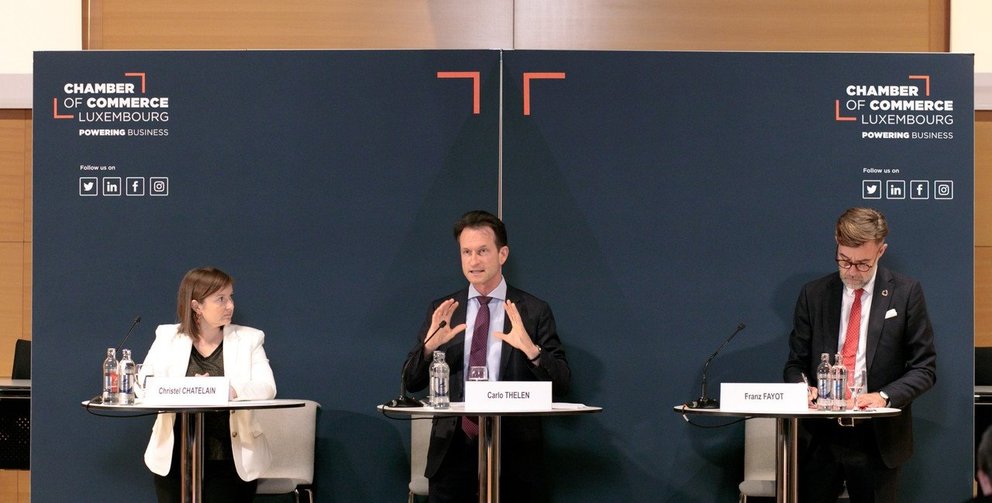 19/05/2022
Ms. Chatelain, Director of Economic Affairs at Luxembourg Chamber of Commerce : "Les entreprises restent dans l'incertitude"
A survey of 564 companies in April showed that 26% of companies reported an increase in activity over the last six months. On the other hand, 24% of them report a decrease in their activity. The predictions made in the previous barometer were more optimistic than the results observed in this seventh edition.
The global situation and in particular the Russian-Ukrainian conflict are reflected in the results of this Barometer and allow Ms Chatelain to make a few observations: the sectors that are benefiting from an increase in their activity are financial services and other services, while sectors such as trade, transport or horeca are experiencing a slackening.
Carlo Thelen adds that companies are now faced with soaring raw material prices, which is pushing them to make necessary expenditures rather than disruptive investments.
Due to the consequences of the war in Ukraine and the threat from China on world trade, global growth is revised downwards for 2022 and 2023. As for Luxembourg, it is also losing speed with a falling inflation rate in the short term, slower GDP growth and, by extension, a drop in the competitiveness of companies and the attractiveness of Luxembourg. To counteract these setbacks, the Ministry of the Economy and the Chamber of Commerce offer several tools to help companies, such as the Fit 4 Sustainability programme, among others.
---
Grâce à un sondage mené auprès de 564 entreprises durant mois d'avril, on note que 26% des entreprises déclarent la hausse de leur activité durant les six derniers mois. Par ailleurs, 24% d'entre elles observent une baisse de leur activité. Les prédictions lors du précédent baromètre étaient plus optimistes que les résultats observés lors de cette septième édition.
La conjoncture mondiale et en particulier, le conflit russo-ukrainien se reflètent dans les résultats de ce Baromètre et permettent à Mme Chatelain de dresser quelques observations : les secteurs qui bénéficient d'une hausse de leur activité sont les services financiers et aitres services alors que les secteurs comme le commerce, les transports ou l'horeca connaissent un relâchement.
Carlo Thelen ajoute que les entreprises doivent maintenant faire face à une flambée des prix des matières premières, ce qui les poussent à ne plutôt réaliser des dépenses nécessaires que des investissements disruptifs.
En raison des conséquences de la guerre en Ukraine et de la menace chinoise sur le commerce mondial, la croissance mondiale est revue à la baisse pour 2022 et 2023. Quant au Luxembourg, on perd en vitesse également avec un taux d'inflation à la baisse à court terme, une croissance ralentie du PIB et par extension, une baisse de la compétitivité des entreprises et de l'attractivité du Luxembourg. Pour pallier ces reculs, le Ministère de l'Économie et la Chambre de Commerce proposent plusieurs outils d'aide aux entreprises comme le programme Fit 4 Sustainability, inter alia.
Sources: Paperjam