Back to list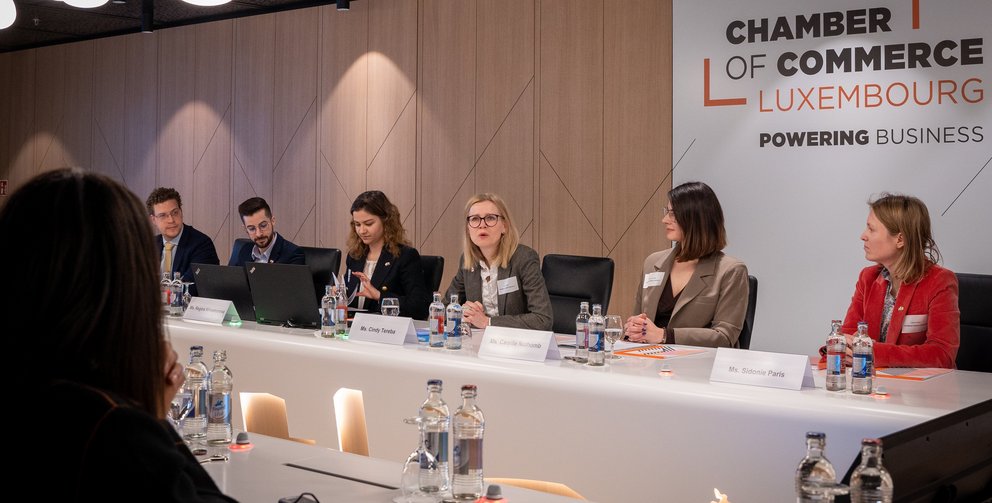 13/03/2023
Flemish delegation in Luxembourg - 2 members of the BCBL on the spotlight!
On Monday, 13 March 2023, at the Luxembourg Chamber of Commerce, Ms. Cindy Tereba, Director International Affairs, received a multisectoral delegation of entrepreneurs from the Flemish agencies, Flanders Investment and Trade (FIT) and Unizo, Union of Independent Entrepreneurs in Flanders.
In the framework of the strengthening of the Belgian-Luxembourgish economic collaborations, FIT and Unizo accompanied a delegation of entrepreneurs interested in the Luxembourg market to meet potential business partners with the support of the Luxembourg Chamber of Commerce. Their sectors of activities and interest were mainly the construction, events, beverage, and financial sectors. The welcoming of this delegation was part of a more comprehensive project initiated in October 2022 when the Flemish entrepreneurs received individual consulting by the market advisors of the Luxembourg Chamber of Commerce in Belgium.
At the beginning of the seminar, Ms. Tereba gave a speech on the key cooperation areas in the Belgium-Luxembourg economic relations as well as the ones that can be further developed. She talked, for example, about the fact that the COVID-19 period had resulted in a closer cooperation between Belgium and Luxembourg in the health sector.
While the key economic sectors were presented by Ms. Sidonie Paris, Economist, practical steps and advice to establish as an entrepreneur in Luxembourg were given to the delegation by Mr. Pedro Pereira, Project Advisor, The House of Entrepreneurship. Finally, two members of the Business Club Belgium-Luxembourg (BCBL), were invited to deliver their personal and professional experience about settling in Luxembourg as a Flemish company.
The testimonial of Mr. Marc Dhuygelaere, CFO at Campus Contern, focused on his personal example of doing business in Luxembourg for the last 30 years, while highlighting sustainable aspects of the country. "Luxembourg has a culture, which is remarkably diverse, people are always immensely helpful. In case we need some information or help, there is always a shoulder to newcomers, you have the BCBL (Business Club Belgium-Luxembourg), the House of Entrepreneurship, the House of Startups, Luxinnovation, etc."
Another example of successful establishment in Luxembourg was shared by Mr. Mark Scheerlinck, Business Development Director, Managing Director MCS sàrl, a Flemish national who moved to Luxembourg in 2009. He mentioned that Luxembourg is an excellent jumping board not only for the Luxembourg market but also for the Greater Region "(…) Setting up companies here in Luxembourg is quite easy. And it is even easier now than it was in 2009. I would say in "three words" that in Luxembourg you have the combination of classic, traditional and very modern".
For more information on the Luxembourg economy and "Doing business in Luxembourg", you will find the related presentations attached.