Back to list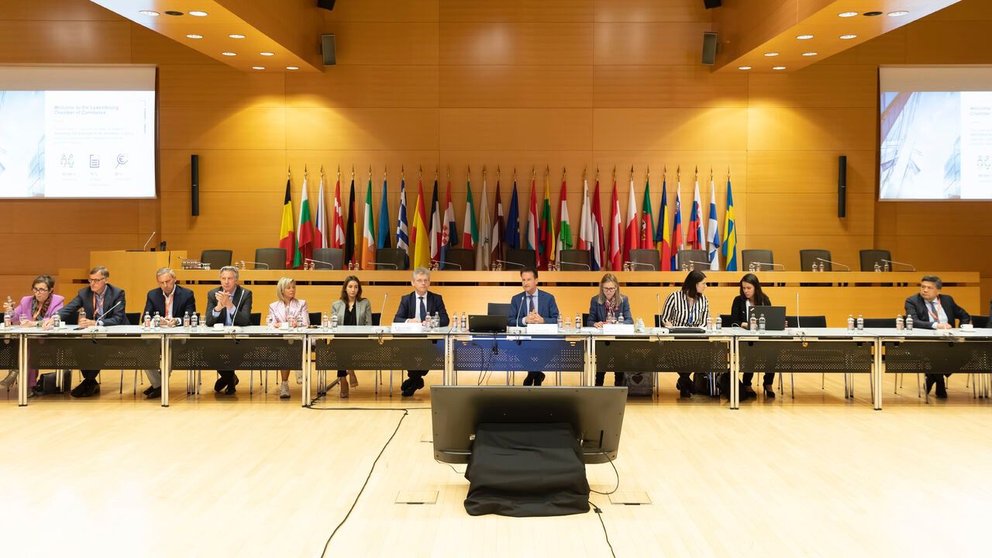 25/04/2022
A VISIT OF THE DELEGATION VOKA-ANTWERPEN-WAASLAND: INTEREST IN FINTECH, INNOVATION, SPACE AND LOGISTICS INDUSTRIES
On Monday, 25 April, Carlo Thelen, CEO and Director General and Cindy Tereba, Director International Affairs, had the pleasure of receiving at the Luxembourg Chamber of Commerce a delegation of entrepreneurs from the Chamber of Commerce VOKA-Antwerpen-Waasland which was led by the Minister-President of the Government of Flanders, Mr Jan Jambon.
In the framework of a post-COVID recovery, it was the occasion for Flanders to meet Luxembourg and discuss their common interests for future collaborations between the two economic regions. The delegation visited the Grand-Duchy on a two-day economic mission to get an insight into selected economic sectors. At the Luxembourg Chamber of Commerce, Carlo Thelen was showcasing the innovative mindset inherent to Luxembourg's economy by presenting Luxembourg's start-up ecosystem, Data and Logistics Hub, Financial expertise, Space industry and Health technologies to the Flemish delegation.
H.E. Mr Thomas Lambert, Ambassador of the Kingdom of Belgium to the Grand Duchy, had the pleasure of accompanying and guiding the delegation during its stay. This initiative was a successful implementation of his continuous efforts to strengthen the cooperation between Belgian and Luxembourg entrepreneurs.
During these two days, the delegation got a chance to meet with the Luxembourg House of Fintech (LhoFT) and discussed the Luxembourg's Fintech sector with Mr. Nasir Zubairi, CEO LhoFT and, Mr Alex Panican, Head of Partnerships and Ecosystem Development LhoFT, who gave insightful information. The delegation could also meet Fintech startups pitching their products and services.
On 26 April, the day began with a tour of the SES facilities at Betzdorf Castle, where participants learned more about the Grand Duchy's advanced space and telecommunications industries. Mr Marc Serres, Director at LSA, gave a keynote speech and pointed out the opportunities of the space sector in the Grand Duchy, thus showcasing the pioneering thinking of Luxembourg's government. Ms Evie Roos, Chief Human Resources Officer at SES, presented the renowned company to the participants.
The two-day mission closed with a visit of the terminals of CFL, together with a presentation of the CFL group, by Ms Barbara Chevalier, Director Strategy & Business Development CFL, followed by an overview on the logistics sector by Mr Malik Zeniti, Cluster Manager C4L. The participants could see the richness of Luxembourg in developing this sector and identify mutual interests.
The Luxembourg Chamber of Commerce was delighted to welcome this business delegation from Antwerp and to assist them in their discovery of Luxembourg's economy and will remain enthusiastic about future initiatives that aim at enhancing the links between Belgium and its regions, and the Grand-Duchy of Luxembourg.
The Trade and Economic Attachés of the Chamber of Commerce in Belgium support Luxembourgish companies in their market entry activities and actively lead the Business Club Belgium-Luxembourg, a unique platform to connect entrepreneurs from both countries with the support of the Chamber and the Embassy of Luxembourg in Brussels.