Back to list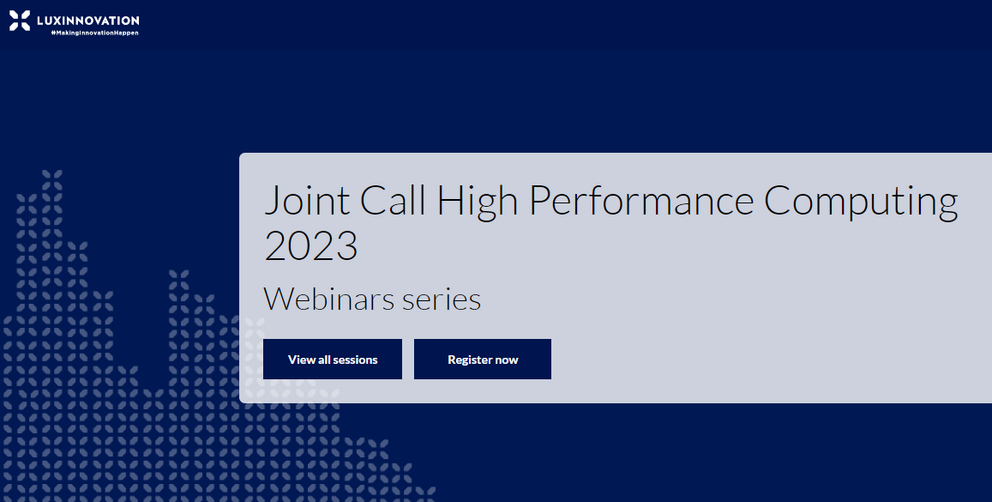 19/09/2023
Partner event | Joint Call High Performance Computing 2023 - Webinars Series
The Ministry of the Economy, the Luxembourg National Research Fund (FNR), and Luxinnovation are delighted to extend a warm invitation to you for an engaging webinar series. This series has been specifically designed to equip you with valuable insights that will aid in your successful response to the joint call for High-Performance Computing (HPC) projects, open until November 15, 2023.
By combining their efforts, the Ministry of the Economy, the National Research Fund, and Luxinnovation are presenting companies and research institutions with a unique chance to secure funding, which will support consortia in leveraging HPC capabilities for their research and innovation endeavors. You can already access the call's objectives, topics, and eligibility criteria, enabling you to begin your preparations.
The joint call for HPC projects aims to provide financial incentives that will accelerate the digital transformation in companies by integrating computer-aided engineering, big data analytics, and artificial intelligence (AI) algorithm training, all through the power of high-performance computing. The objective of the call is to promote a strong and interactive partnership between private companies and public research institutes (PPP – public-private partnerships) to conduct cutting-edge research projects on HPC infrastructures.
More details about this event here.