Back to list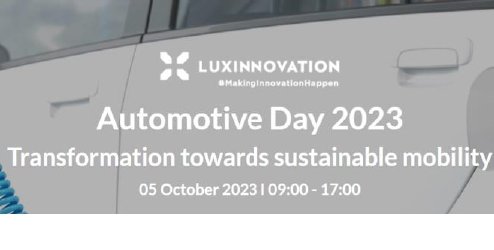 05/10/2023
Automotive Day 2023 - Transformation towards sustainable mobility - 05 October 2023
Automotive Day 2023 in Luxembourg, taking place on 5 October, will center around the shift towards sustainable mobility. The event recognizes the significance of efficient transportation in our society while acknowledging the obstacles of congested roads, escalating fuel expenses, and harmful emissions. Luxembourg aims to pioneer a novel approach to mobility by integrating various modes of transportation, including public solutions and private vehicles, into a cohesive and digitally supported travel experience.
The automotive industry in the Greater Region will gain insights from practical use cases, illustrating how ongoing transformations can foster sustainable economic development by cultivating new business relationships.
The focus of the 2023 edition will revolve around the theme of "Transformation towards sustainable mobility." The event will assemble industry leaders and experts, providing them with a platform to share ideas, expertise, and knowledge on emerging trends, challenges, and opportunities in the field.
If you want to know more about the programme, click here.